Hey all! Did I tell you that I would have that Chevron tutorial up ummm last week??? Yes I did and No I haven't done it yet! Man am I not sticking to my word!
I'm typing it up now and it will be up tomorrow!
In the meantime I wanted to share a bit of what has been keeping me from posting it.
My Mr. was in a big golf tournament that he has entered 7 out of the 8 years we have been together! He has never won it but been in the semifinals many times.
Well this year he made it to the championship match!!!!
He played against one of my former co-workers. And boy did he have his work cut out for him. This guy had won it 4 previous times.
Since M has taken the summer off to work on golfing and attempt to make it a career, I was very pleased at how far he got and how well he did. Makes me feel validated for letting him do it.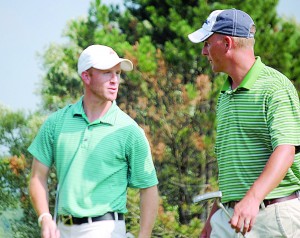 My hubster is the one on the left. Isn't he so handsome?
It was a fun match and thankfully my hubby is not a sore loser. He knew he blew it and he played bad at the end so it wasn't a rough night trying to cheer him up. We were able to enjoy some lounge time at the clubhouse with the winner and his family afterwards.
So this week has been spent trying to catch up on all the sleep and energy we lost last week going nonstop.
Also this little gal...
is having dental surgery today!!!! EEEEEK I'm anxiously waiting for an update from my mama about how it is going. She has 12 of her baby teeth that are losing their enamel rather quickly! She visited a specialist this past Monday and the dentist booked her for surgery today! Pretty serious and a little scary that my 4 yr old sissy is being put under! I spend some time with her last night and she was extra lovey and cuddly! Wanted me to sleep over at my parents. HA! Hubs said that wasn't happening, so we scheduled a sleepover for next week.
Keep her (and my parents, especially my mama) in your prayers please. I know they are pretty nervous about all of this.
Lexi is spending the day with me and we are about to do some manicures to keep our minds busy!
Catch ya'll tomorrow :)